Fractional Ownership first appeared in southern Europe in the late 1970's where it was then known as Co-Ownership [also known by the French term: "Co-Propriete" or by the Spanish term: "Co-Propiedad" or sometimes referred to as "Pro-indiviso"] and was pioneered in southern France, Spain, Portugal and the Canary Islands.
The concept never really took off however, largely because of the inflexibility of the usage plans, which often relied on a very basic rotational use arrangement, as illustrated below: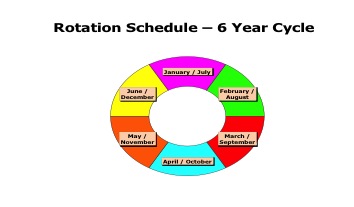 In the first usage year, Owner "A" would have the use of January and July; owner "B" would have the use of February and August and so on, so that over a six year cycle, owners would have the use of all calendar months. Similar "donut" arrangements were put in place to allocate a given number of weeks over say, a 12 year cycle in an effort to improve the flexibility of the usage plan.
The concept did not achieve any real momentum, either in Europe or in the United States, despite the efforts of some pioneering Developers to get "fractionals" as they had become known, into the consumer domain, but Fractional Interests, as they are now often referred to, reappeared in the USA in the early 1990's, primarily involving a number of exclusive ski destinations in Colorado such as Telluride, Snowmass and Aspen. These were all locations in which real estate prices were usually exceptionally high and second homes were in short supply.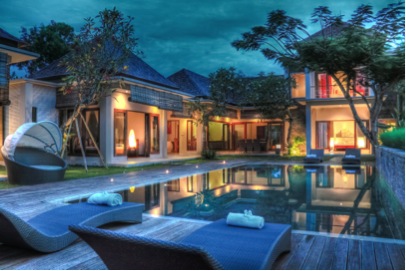 Most importantly, thanks to the advances in reservation system technology over the last few decades, very flexible usage plans can now be created so as to enable Developers to design their fractional ownership offerings in such a way that annual usage is aligned with the manner in which Buyers wish to use the product. For example, an urban fractional property will likely have a usage plan enabling the owner to have nightly as well as split week usage, just like booking a hotel suite, so as to provide optimum flexibility.
The emerging Fractional Interest based upon "immovable" property or real estate was also being replicated in other spheres, particularly with "movables" and most notably, with executive jet aircraft, luxury yachts and classic and supercars, as well as with racehorses and works of art.
The fractional ownership industry grew from a handful of resorts in exotic locations in North America in 1995 to over 300 resorts by the end of 2013 spread across Canada, the USA, Mexico and the Caribbean; a further 50 or more fractional ownership projects are under development or in sales across Europe and the first of such offerings have appeared in south-east Asia, most notably within Bali and Thailand.
Sales volume also rose dramatically from a figure of around $160.7M in 1999, to a figure of US$2.3 Billion by the end of 2007. Sales dropped to US$1,58Billion in 2008 as a result of the Global Financial Crisis and have since slowed significantly in the interim, as the USA market for recreational real estate struggled to recover but Developers within the USA expect the fractional segment to be amongst the first to rebound now that the bottom of the market has been reached within the recreational real estate sector and the wider economic recovery continues to gather momentum.